The Duke of Edinburgh Award
There is more to education than exams. Doing a DofE award builds young peoples confidence and expands their horizons - whoever they are and wherever they are from.
DofE teachers boys the value of resilience, self-reliance and service to the community - Skills that last a lifetime!
What is a DofE award?
It is a life-changing experience. A fun time with friends. An opportunity to discover new interests and talents. A tool to develop essential skills for life and work. A recognised mark of achievement; respected by employers.

The DofE is many things to many people, and has been supporting generations of young people to successfully navigate adult life.
At CHSB we run 2 progressive levels which, when successfully completed, leads to a Bronze (Year 9) and Silver (Year 10) Duke of Edinburgh's Award. As young people must be 16 years old to start a Gold award we do not offer this level of the award. Young people just need to transfer their online account to a new ctr wherever they go to complete the final stage of the award.
There are four sections to complete at Bronze and Silver level and five at Gold. They involve helping the community/environment, becoming fitter, developing new skills, planning, training for and completing an expedition.
Any young person can do their DofE – regardless of ability, gender, background or location. Achieving an Award isn't a competition or about being first. It's all about setting personal challenges and pushing personal boundaries.
Through a DofE programme young people have fun, make friends, improve their self-esteem and build confidence. They gain essential skills and attributes for work and life such as resilience, problem-solving, team-working, communication and drive, enhancing CVs and university and job applications. Top employers recognise the work-ready skills Award holders bring to their business.
At CHSB young people (or their parents / carers) pay for a 'Participation Place' and are supported by Leaders who support them through their programmes, helping them to choose their activities, set their objectives and achieve their Award.
The Duke of Edinburgh's Award is a registered charity, funded by donations, Participation Places and licences. The charity works with centres across the UK to increase opportunities for young people to gain the benefits of doing their DofE.

Why do it?
For the hundreds of thousands of young people who take part each year, the benefits of achieving a DofE Award at any level are endless. DofE is about helping young people on the path to a productive and prosperous future. As many of our participants say, it's life-changing.
Achieving an Award will creates skills, confidence and an edge over others when a young person applies for college, university or a job. Beyond young peoples academic achievements, universities want to see evidence of so called 'soft skills' that are developed through extra-curricular activities, such as communication, commitment, leadership and teamwork. A DofE Award is a fantastic way to demonstrate and evidence these skills in practice.
The award also makes a difference to other people's lives and the community, be fitter and healthier, make new friends and have memories to last you a lifetime.
/i/video/Recruitment_Film_English_Version.mp4
Timescales
At CHSB there are two levels of programme a young person can do; Bronze & Silver. The main differences between them are the minimum length of time it takes to complete them, how challenging it is and the minimum age you can start.
Activities for each DofE section take a minimum of one hour a week over a set period of time, so they can be fitted in around academic study, hobbies and social lives. Development and regular progress must be shown and all activities must be completed by the participant's 25th birthday.
Depending on your age, young people are free to start at any level but most people prefer to start at Bronze and work upwards.
BRONZE Timescales
It will usually take at least 6 months to complete a Bronze programme.
Volunteering section: 3 months

Physical section: 3 months

Skills section: 3 months

Expedition section: 2 x 2 days/1 night. This runs as a practice and training walk/camp then an assessed expedition in the summer term, usually before the 1/2 term summer break.
A Bronze award participant also has to spend an extra three months on one of the Volunteering, Physical or Skills sections. It's their choice which one and, though they can change their mind later, they should decide which section they want to do for longer at the beginning. Knowing how long they're going to do it for will help them to choose a suitable activity and set their goals for each section.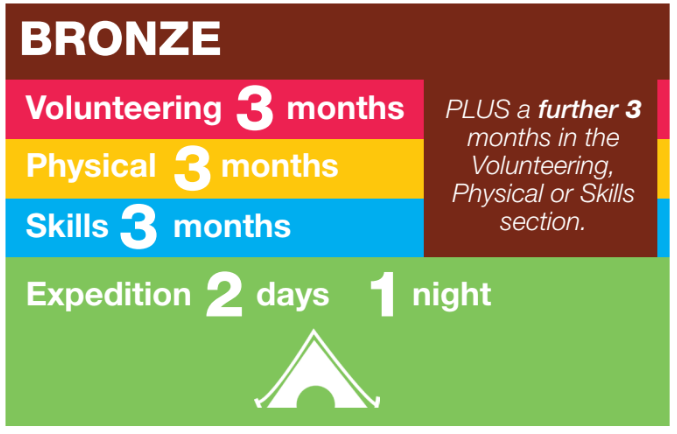 SILVER Timescales
It will take at least 6 months for Silver if already Bronze has been achieved, or 12 months if a young person jumped straight into Silver. This is called 'Direct Entry' and as such requires a slightly longer timescale.
Volunteering section: 6 months
Physical and Skills sections: One section for 6 months and the other section for 3 months
Expedition section: 2 x 3 days/2 nights. This is run as a formal practice and assessed expedition. A refresher walk and hike/camp is open to all Silver participants when the Bronze are being assessed. The refresher is held before the summer 1.2 term then the 2 formal expeditions are held towards the end of the summer term.
If a young person didn't do Bronze, they must undertake a further 6 months in either the Volunteering or the longer of the Physical or Skills sections.
Employability
Having a positive attitude is an important attribute and underpins success in working life. It helps young people to be resilient and adapt to changing situations around them.
In addition to business awareness, literacy & numeracy skill - the UK commission for employment and skills and the CBI define the skill and attitudes that make someone employable as;
Attitude or skill

How can doing a DofE programme promote employability?
Self-management

Every DofE programme is unique as participants are required to plan their own programme and source their own activities. They are required to manage their own time to fit in their activities alongside school, college, work and family life.

Realistic yet challenging goals need to be set for each activity and although there are adults to help, no one achieves an Award unless they put in the effort, managing their time effectively

Problem solving

Problem solving is a key element required across all sections of the DofE but is perhaps best developed through the Expedition section. In this section participants have to make considered decisions to help them complete their journey safely and they are expected to deal with problems without adult intervention.

They learn how to apply their knowledge and skills developed through their training, and understand the consequences of the decisions made.

Team working and communication

Working together as a team is imperative to the successful completion of a DofE programme. Working together with new people on their Residential section to reach a shared goal, and working with their expedition team to get from one check point to the next, young people learn the importance of good communication and the value of each other's skills.

In the Volunteering section many young people will experience for the first time having to work alongside adults in well-established teams; taking on new roles and accepting new responsibilities, often helping to develop leadership skills and self-confidence

Positive approach to work
Young people are the driving force behind their own DofE programme and, in much the same way that employability isn't something that you can be taught, you have to be active and committed to achieve. What DofE participants have shown is that they are willing to get involved, take on new challenges and take advantage of opportunities to develop themselves.
Staff Responsible:
Mr Morris, Augmented Curriculum Manager - gmorris@challneyboys.co.uk
template letter to parents 3 .pdf