Special Educational Needs & Disability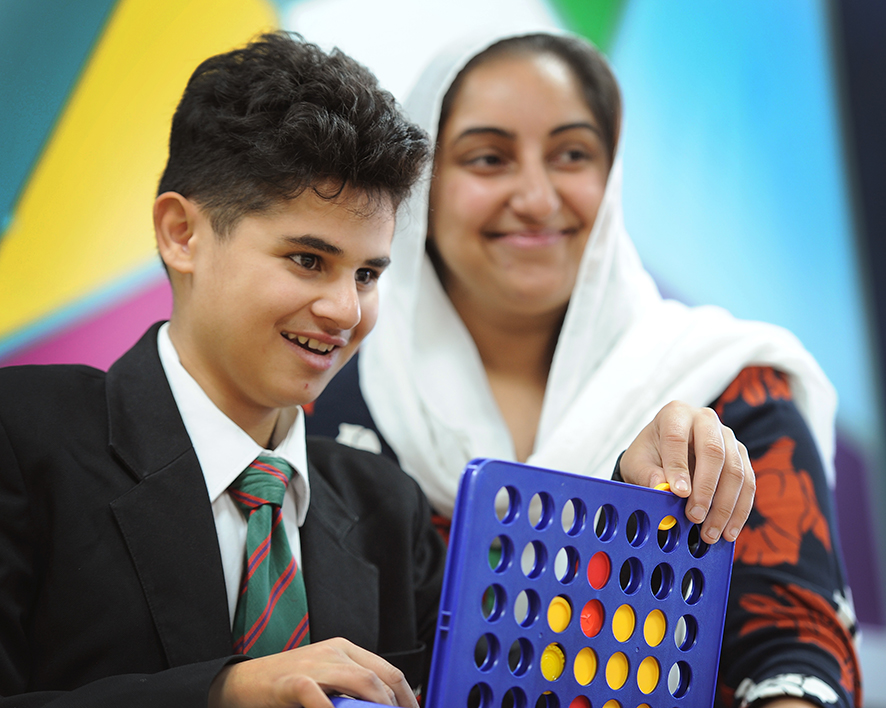 At Challney High School for Boys we believe in achievement, ambition and progress for all children and we aim to meet the needs of all children through highly effective teaching and learning.
There is an emphasis on early identification of need with support to develop skills and strategies which reduce barriers to learning.
We undertake a rigorous system of monitoring children's progress and using a wide range of strategies to foster a culture of life-long learning and independent living skills for all children.
We work in a flexible way to develop effective partnerships with children and their parents/carers, the SENDCo, specialist teaching staff within the school and external professionals, such as educational psychologists, speech and language therapists, occupational therapists and child and adolescent mental health services (CAMHS) to ensure that the school can meet a broad range of special educational needs.
How do we support children with special educational needs?
Children with special educational needs are initially identified from information sent through from junior schools and primary schools at transition.
However, as all children move through the school any new teacher or parent/carer concerns are listened to and investigated and if necessary a support plan will be arranged. This may include interventions from outside agencies or careful monitoring within school with the involvement of staff to help agree further interventions to meet the needs of the child.
This close monitoring and tracking process is critical in identifying children who may potentially have a need that will demand more specific intervention strategies. Regular professional development helps staff and teaching assistants to recognise and support pupils with special educational needs.
How will you be informed about your child's progress at school and how will his progress be measured?
The progress of all pupils is carefully monitored by the classroom teacher, the Head of Department, any support staff involved in the well-being of a pupil and the Senior Leadership Team.
There are always open evenings for parents/carers of Year 6 pupils to come and visit the school, meet staff and see the facilities available. Every pupil will start in mixed-ability classes within a year group and progress according to ability.
Every child has an organiser which records messages to and from the home and acts as a diary for the pupils. Parents/carers are encouraged to monitor this book and write any questions in it. Important announcements from the school are communicated by letter.
However, other forms of communication include: Statement review meetings, parents' evenings, SEND open evenings, opportunities to visit the school by appointment, progress reports, general open evenings, letters, SMS and telephone calls home and subject postcards acknowledging individual success.
Who are the most important people in the school to discuss your concerns about any difficulties with?
The Pastoral and the Support for Learning teams work closely with the Local Authority and neighbouring catchment schools to ensure a smooth transition of pupils arriving into high school.
As part of the Inclusion Policy of the school, parents/carers can arrange an appointment with a member of the Support for Learning or Pastoral teams to discuss how the school can specifically help to meet the needs of their child.
A number of specific staff are identified to be a point of contact for parents. These include: the Form Tutor, the Head of Year, support staff and the SENCO. All are available to meet with parents in person or talk to on the phone.
We recognise that parents/carers of pupils with SEND may from time to time have particular anxieties about the well-being of their children and we operate an open door policy, welcoming early contact to enable us to investigate and address any problems as soon as possible. We endeavour to develop a good working relationship with our parents/carers so that together we can support our pupils with SEND to ensure that their school days are enjoyable and productive.
Staff are also available at parents' evenings, of which there are two a year for each year group, and at targeted pupil meetings, such as EHC plan review meetings.
All pupil progress is reported at parents' evenings through reports and dialogue with staff. If staff have particular concerns about a pupil's progress then parents/carers will be invited to the school to discuss strategies to support the child over a period of time.
How do we allocate resources to support children with SEND?
Funding is used in a variety of ways to support pupils with SEND. These include:
Support for Learning classroom assistants who work with small groups or individually with pupils within the class or in withdrawal sessions;

Smaller classes for targeted groups of pupils

Identified Support for Learning rooms with resources for pupils with SEND to access during social hours in school

Specific resources used in the classroom to support identified pupils

Involvement of outside agencies to advise and support pupils

Transition teams to help pupils move smoothly between Key Stage 2/3 and Key Stage 4/5

Parent workshops on specific topics

Access to support groups for pupils and their families

Staff training in specific fields relating to SEND

Support for pupils with SEND on external visits to ensure every child is able to participate
What support is offered to ensure the well-being of your child?
There is a range of strategies in place in school to support all vulnerable pupils and ensure that the whole school community realises its responsibility to promote well-being for all.
These include:
Workshops and assemblies

Anti-bullying policies and strategies

Supervised break times and lunch times with staff in identified areas within the school

Drop-in centres for pupils with SEND at

break

, lunch, before and after school

Medical room on site

Pastoral teams which incorporate all staff attached to a house

Personal, Social, Health, Careers Education (PSHCE) lessons looking at our role in society

20 minutes form tutor time every day

Peer support, such as transition mentors and student executives

Inclusion profiles for pupils with SEND

Classes to support parents/carers of children with specific needs

Guidance to information from outside organisations for pupils and parents

Regular meetings with school teams and/or outside agencies supporting the progress and well-being of pupils
What different types of support can your child receive in school?
All children have access to the national curriculum within whole class groups which may be set according to levels of ability.
However, there may be a need to withdraw individual pupils to work in smaller groups on specific areas within that curriculum. There are also Teaching Assistants who work with small groups of pupils withdrawn from certain lessons or within a whole class environment to support pupils with specific needs. Differentiated learning is encouraged in all subjects to ensure all pupils' needs are met and progress is monitored regularly. All pupils have individual academic targets but some pupils may have social skills targets as well.
Other support for pupils include the following:
Homework and handwriting clubs after school

Enrichment activities before and after school and during breaks and lunch times

Paired reading during registration

Targeted extra English and maths classes both within the school day and during other social hours

Sports clubs during lunch times

Social skills classes during registration

Off-site provision to meet specific needs

Phonics and Inference classes during school

Targeted support for GCSE subject areas

Personalised timetables

Mentoring for individual students

Targeted parent/carers support meetings for students with specifically identified need

Support to find suitable placement at KS5 upon leaving school